Queens Real Estate Market Update July 2019, courtesy of the Queens Home Team at Keller Williams Realty Landmark II. Looking for a real estate agent in Queens? Let us help 🙂

718-968-5538
Market Snapshot
Hello Summer, goodbye Spring. As we write this the weather is 96 degrees outside so as you can imagine, people are barbecuing, going to beaches, dipping into pools, etc. As for us, we are reflecting on the first half of the year and gearing up for the next two quarters. So far this year we've seen a shift in the market whereby the trend has actually started reversing to trend more in favor of home buyers. The good news for homeowners is that home prices are still up, albeit at a more modest pace than years past. Right now prices are appreciating at what would be considered a "healthy market", 4-5%. If this remains than it will make for a nice and balanced market. However, if the trend continues as it has been, then we may see ourselves shifting more and more into a buyer's market. 

Regarding home sales, they took another dip in June, falling 11% from May and dropping a significant 22% from June of last year. This drop in sales, along with the rise in inventory, is what has created the shift in the market that we have been experiencing. It will be interesting to see if home sales continue dipping even with the low interest rates that we have right now.
As for home prices, they have continued rising this year, but at a much more modest and "normal" rate. For example, 2-3 years ago we were seeing home prices rise 10, 12, 16% year over year, and now we are seeing home prices rise between 1-5% year over year. This is what economists would consider healthy because it follows along with inflation. Drastic home price appreciation is never sustainable because at a certain point it creates an affordability crisis where most people can't afford to buy. We'll see how the remainder of the year plays out.

When it comes to interest rates, they have remained at very low levels this year. In our opinion, this is what has kept home prices from dropping because money is still cheap and low rates will always spur home sales. The surprising thing is that home sales have actually been declining and based on what we're seeing, it seems that this is because a lot of buyers are not in a rush and they don't have the same urgency As they would in a seller's market. Now that the market has started shifting, it appears that buyers think time is on their side.

And lastly, when it comes to month's supply, this year we hit 8.1 months if supply in Queens. This is significant because in our industry 6-7 month's supply is said to be a balanced market. Once you hit 8, 9, and 10+ month's supply, you are officially in a buyer's market where supply exceeds demand. Fortunately things have continued moving, but we do have a few listings that are not selling and we cannot understand why. This is likely one of the first signs of a market with lower demand because those listing that would have sold quickly a couple years ago, may begin to take longer to sell.

We'll continue to watch the market and keep you posted.
Month's Supply
What is Month's Supply? Months of supply is the measure of how many months it would take for the current inventory of homes on the market to sell, given the current pace of home sales. For example, if there are 50 homes on the market and 10 homes selling each month, there is a 5 month supply of homes for sale.
Months of supply is a good indicator of whether a particular real estate market is favoring buyers or sellers. Typically, a market that favors sellers has less than 6 months of supply, while more than 6 months of supply indicates an excess of homes for sale that favors buyers.
Month's Supply in Queens NY
Homes on the Market: 5,090
Homes selling each month: 632
Month's Supply: 8.1
Market in Favor of: [ X ] Buyers [ ] Sellers [ ] Balanced
---
Queens Home Sales

The Long Island Board of Realtors reported a total of 615 home sales during the month of June. This was DOWN 10.6% from April and DOWN 21.9% compared to June of last year.
Specifically, sales for Residential homes was DOWN 18.9%, sales for Condos was DOWN 36.8%, and sales for Coop apartments was DOWN 23% compared to the same month last year.
---
Thinking of Selling in the next 6-12 Months? Schedule a Free Listing Consultation to find out how to best prepare for the sale.

---
Queens Home Prices

In June, the median home price in Queens rose to $600,000, this is a UP 6.2% from May and UP 4.3% compared to June of last year. To put that into perspective, the median home price has risen by approximately $25,000 since last year.
Specifically, the median home price for Residential homes was UP 2.3%, median home price for condos was DOWN 11.7%, and the median home price for coops was UP 6.4% compared to the same month last year.
---
Thinking of Buying a Home in Queens? Speak with a local real estate expert who can help line up your financing, find the right place, and negotiate on your behalf.

---
Interest Rates

Inventory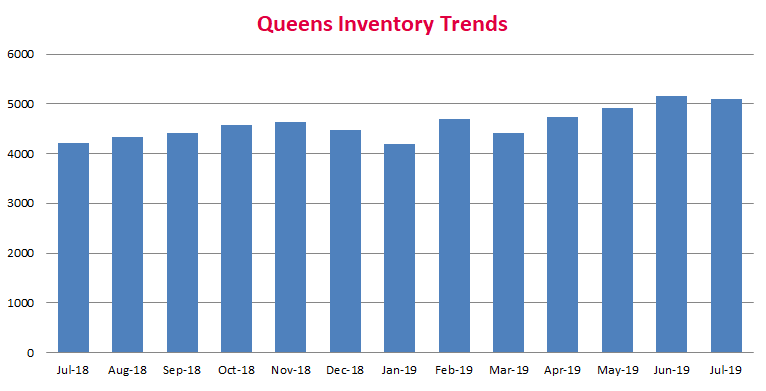 There is currently a 8.1-month supply of housing inventory in Queens, this is down from the 8.2-month supply we had last month, and up from the 6 month's supply we had in June of last year. As for active listings for sale, currently there are currently 5,090 homes for sale in Queens. That's DOWN from the 5,156 homes we had for sale last month, and UP from the 3,998 homes for sale in July of last year. To put that into perspective, right now there are 1,092 more homes for sale in Queens county.
Aha of the Month: Pricing Coops with High Maintenance
This month we had an Aha regarding the adjustments and approach that must be taken when pricing a coop with significantly higher maintenance than other comparable coops in the area. The reason why we had an Aha is because we went on a listing appointment with a couple who had combined two apts in order to create one large coop. Their apt was originally a 2 bed/2 bath, and what they did was purchase the 1 bed/1 bath apt that was directly connected to theirs. The wall separating both apts was in the living room so once the wall was removed it was a huge living room with two kitchens (one on each side). Now, in order to create a master suite, the owners combined two of the bedrooms from the original 2 bed/2 bath apt. So, what they ended up with was a huge 2 bed/3 bath coop with a private terrace. Condition was average.
Now, with that being said, here is the kicker, the maintenance of the apt was $1,900/mo! The maintenance was still separated because they were technically two separate apts so as you can imagine, it was way higher than most coops in the area. In fact, the average maintenance for a 2-3 bed/2 bath coop in the area is around $900 – $950/mo so it was almost double the amount. Whenever you run comps for a unit like this it can be very complicated because most of the recent sales will not be "comparable", however, if you use a bank appraisal approach, then you can start with the beds/baths and then make adjustments from there. We have plenty of experience selling apts with high maintenance and one thing we know for sure is that high maintenance can be one of the biggest challenges to overcome. Reason why is because most coop buyers look to stay below a certain monthly payment in order to make sure that they can manage it.
So, what we did in this situation, in order to determine what we believe would be the market value, is look at all of the recent 2 bed/2 bath and 3 bed/2 bath coops to see what their monthly payments came out to (mortgage + maintenance). We took the last 6 months of closed sales and did the math to determine what each apt came out to be in terms of monthly mortgage and maintenance expense. To keep all things equal we assumed a 20% down payment and an interest rate of 4.5%. The interesting thing that came out of this exercise is that when we ran the numbers, all of the apts came out to a total of $3,500 – $4,000/mo. This helped us because it gave us an idea of what monthly budget our target buyers would likely be working with. Knowing this number, we ran the numbers backwards to determine what price the apt would need to be sold for in order to have a monthly payment between $3,500 – $4,000. Being that the apt was larger than any others, we thought it would fall on the higher end of $4,000/mo.
Once we ran all the numbers, and took into account the condition of the apt, our suggested list price was $600K – $650K. This is the price at which we believed that we would be able to attract buyers and generate offers. Bad news is that the sellers thought the apt would sell in the high $800's. When you run the numbers at that price (mortgage + maintenance), a new buyer would be making the same monthly payments as if they were to buy a 2 bed/2 bath new construction high rise condo in Long Island City. So, our advice for them was to either restore the apts to their original use (i.e. One 2 bed/2 bath & one 1 bed/1 bath), come to grips with the estimated value, or stay in the apt until the values catch up to the price that they're looking for.
Ultimately, the sellers decided to go with another agent who would price it higher and in all sincerity, we truly hope that they're able to at least close to it because they were such a sweet couple and this is part of their retirement plan. They ended up listing for $875K and are on the market now in case you know anyone. We'll track the sale to see what the outcome is but this was definitely a good learning experience, and it reinforces what we already know which is that sometimes you have to walk away if the price is not realistic for the market.
Queens Real Estate Market Update July 2019 provided by the Queens Home Team at Keller Williams Realty Landmark II.
About Us
The Queens Home Team is a group of friendly, service driven real estate Realtors in Queens NY. Our agents are not only experts at what they do, but more importantly, they are driven by their desire to help people. The team approach is what truly separates us from the average Queens real estate broker, because while most agents are one person doing several things, we have several agents doing one thing, and being great at it! This ensures expertise throughout all stages of the transaction and allows us to provide the superior level of service our clients deserve. We understand that real estate is a service industry, therefore we treat it as such. Rest assured that when you work with the Queens Home Team, you'll be in good hands, with people who care 🙂
*The opinions expressed in This Queens Real Estate Market Report are intended to supplement opinions on real estate expressed by local and national media, local Queens real estate agents and other expert sources. You should not treat any opinion expressed on this report as a specific inducement to make a particular investment or follow a particular strategy, but only as an expression of opinion. The Queens Home Team at Keller Williams Realty Landmark II does not guarantee and is not responsible for the accuracy or completeness of information, and provides said information without warranties of any kind. All information presented herein is intended and should be used for educational purposes only. Nothing herein should be construed as investment advice. You should always conduct your own research and due diligence and obtain professional advice before making any investment decision. All investments involve some degree of risk. The Queens Home Team will not be liable for any loss or damage caused by your reliance on information contained in this report.